United Way of Iredell County, Inc.
2020 – 2021 Annual Report

for Facing the Future UNITED
An Update From Our Board President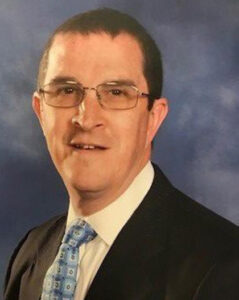 What a year it has been! 2020-2021 was filled with much anxiety, hardship and pain… but, it was also filled with positive impacts with the local community coming together to assist each other, a hope for better days and individuals stepping up to make our community a better place for everyone.
I can not say enough about the great staff at United Way of Iredell County (UWIC). Each one of them have extended themselves beyond their normal duties this past year to make sure UWIC responded to the challenges our community faced. Along with the staff, we have a Board that has "rolled up its sleeves" to support all the great initiatives that have been put into place. Many hours and volunteer time have been given to make sure UWIC has been ready and available to meet the challenges of this year.
Our UWIC focused their efforts this year on looking towards immediate and developing needs throughout the county. Because of what was heard in the community, the Iredell County Covid-19 Response Fund and the Iredell County Covid-19 Education Fund were established, meeting as many immediate needs as possible. Combined these funds were able to provide fast-acting dollars for more than 110,000 needs in our community! More than $1.5 million dollars were given out to 47 local different nonprofits!
In addition, our efforts surrounding the Endowment for the Future and Love United Iredell have continued to gain momentum thanks to the amazing support of this community!
NC 2-1-1 has also handled an astounding number of calls (187,747 calls and emails) and online inquiries (680,000 website sessions) to assist individuals throughout the state.
Today, Covid-19 efforts are continuing and are shifting towards recovery within our community and United Way of Iredell County is meeting the requests as comprehensively as possible.
Let's not put off for tomorrow what we can do today. Let's continue to give for the health, education, and financial stability of everyone in our community.
Paul Cook, President
United Way of Iredell County, Inc.
Board of Directors
The United Way of Iredell County improves our community and its people by uniting partners to meet local health and human service needs.
OUR LEADERSHIP
Paul Cook
President
Shannon Viera
President Elect
Dr. Nelson Granade
2021 Campaign Chair
Will Fanjoy
Endowment Chair
Marian Clark
VP, Fund Distribution
Rhyne Scott
VP, Planning
Melissa Prevette
Treasurer
Cathy Chambers
At Large Member
Mike Nowell
At Large Member
Chief David Addison
Dr. James Brunson
Greg Cain
Ray Englebert
Steve Garrett
Dr. Jeff James
Thom Kincaid
Carolyn Lent
Darlene McClain
Mildred Minor
Beth Mull
Gina Parker
Larry Pizzorni
Summer Raub
Dr. Camille Reese
Andrew Rutter
Ron Smith
Bud Welch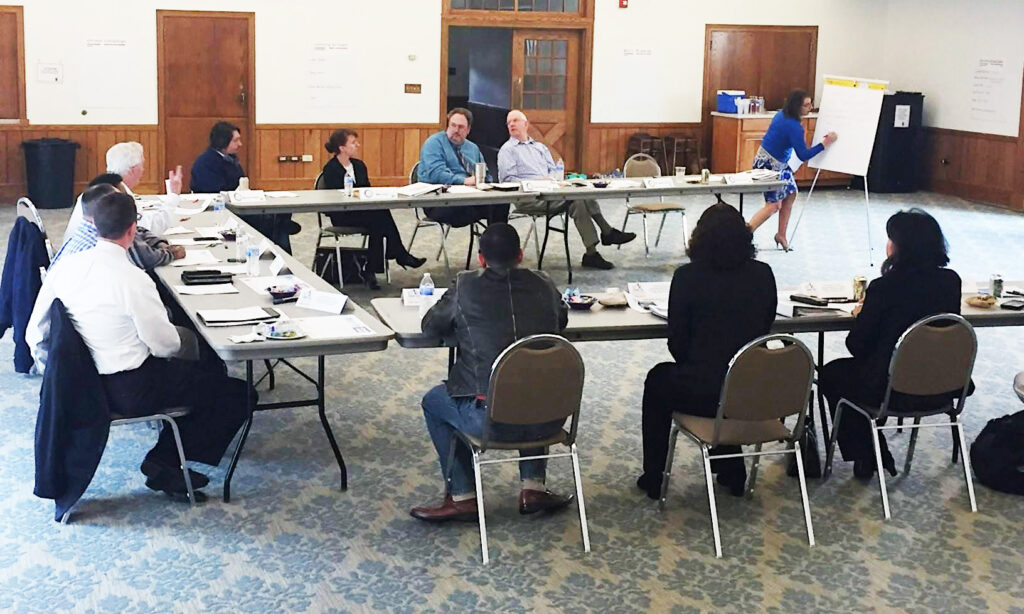 Top 15 Contributors to the 2020 – 2021 Annual Campaign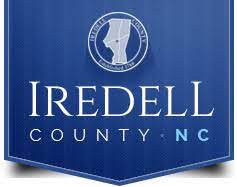 Iredell County CARES Act & Employee Contributions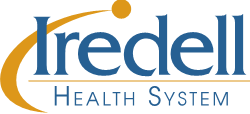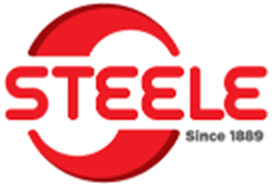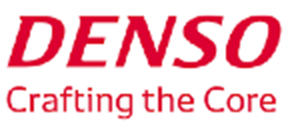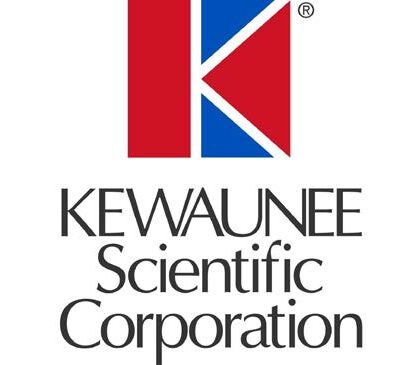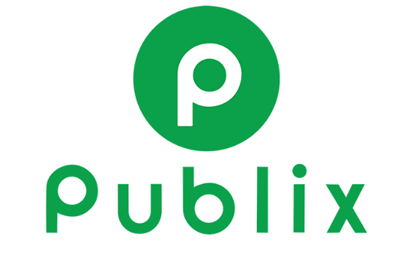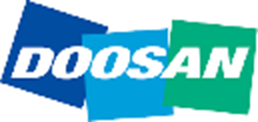 United Way of Iredell County partnered with the Foundation for the Carolinas and the United Way of Central Carolinas to launch the Iredell County COVID-19 Response Fund. Since that time, as a result of the community's generous support, our United Way has been able to provide over $1.5 million to local organizations to meet the basic needs of the families and individuals in crisis.
THANK YOU for your contributions to the Covid-19 Response Fund.
Contributors
Lowe's Home Improvement
Iredell County Government
CARES ACT Funding
DENSO Foundation
United Way of Central Carolinas
United Way of Iredell County
Endowment for the Future
Anonymous
First Baptist Church
Philp L. Van Every Foundation
EnergyUnited Foundation
Lil' Shaver's Wood Ship & Building Supply
Truist Foundation
Iredell County Collaborative
Bruning & Federle Mfg.
Wells Fargo
JT Alexander
Irving Boyles
Dr. Porter Brannon
Joyce Brown
Chandler & Margaret Bryan
Kelly Cooper
Dr. Laurel Eason
Will Fanjoy
Curtis & Mary George
David & Elizabeth Green
Costi Kutteh
Chester Middlesworth
Mike Nowell
Carla Pence
Robert & Carla Steele
Geoff Thomas
Helen Turnipseed
William Webb, III
and 76 other generous donors who designated part or all of their workplace gift to these efforts.
Grants Awarded
Aftershock Youth Empowerment
American Red Cross
Boys & Girls Clubs of the Piedmont
Boy Scouts
CareNet Counseling
Carolina Farm Trust
Childrens Hope Alliance
Cornerstone Church
Council on Aging
Cove Church – Statesville
Daymark Recovery Services
Diakonos/Fifth Street Ministries
Feed NC
Girl Scouts
G4G Ministries
HealthReach Community Clinic
Iredell Adult Services
Iredell Co. Hospice & Palliative Care
I-Care, Inc.
Iredell Christian Ministries
Iredell Co. Partnership for Young Children
Iredell County Rescue Squad
Iredell-Statesville Schools
Kintegra
Landmark Relief Ministries
Lifespan
Love United & Designation Partners
Matthew 25 Ministries
Mooresville Christian Ministries
North Iredell Rescue Squad
NC 2-1-1
Piedmont Mediation
Piedmont Veterans Assistance Council
PowerCross
Purple Heart Homes
Rescue Ranch
STEM
Salvation Army
Pharos Parenting
South Yadkin Baptist Association
Greater Statesville Chamber
of Commerce
Troutman Rescue Squad
Watchmen of the Streets
Lowes YMCA
Statesville Family YMCA
Yokefellow Ministry of Greater
Statesville
NC 211 ANSWERS THE CALL
Covid-19 Pandemic Response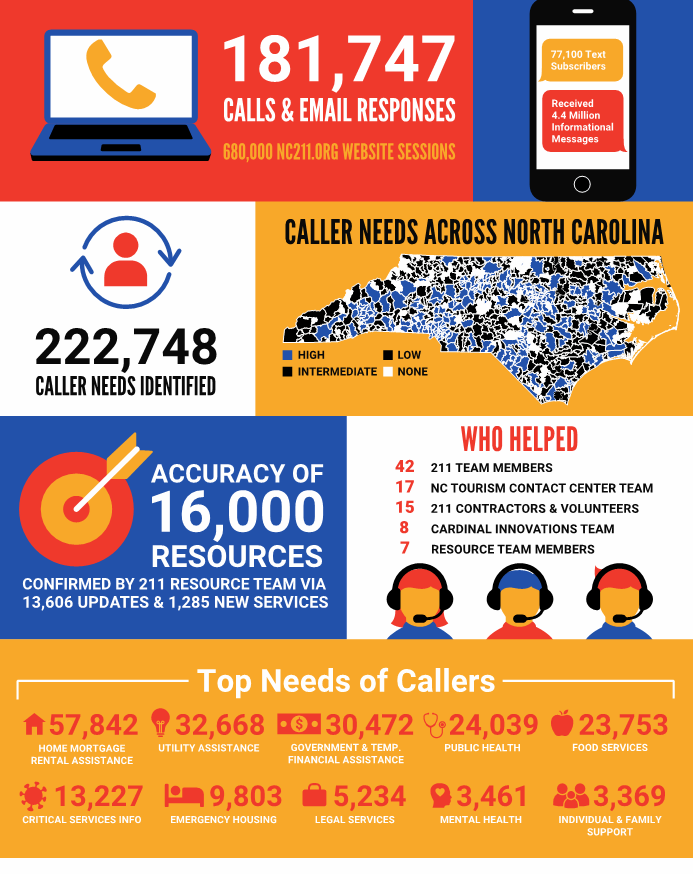 NC 211 is an information and referral service provided by United Way of North Carolina. Families and individuals can dial 2-1-1 or 888-892-1162 to obtain free and confidential information on health and human services and resources within their community.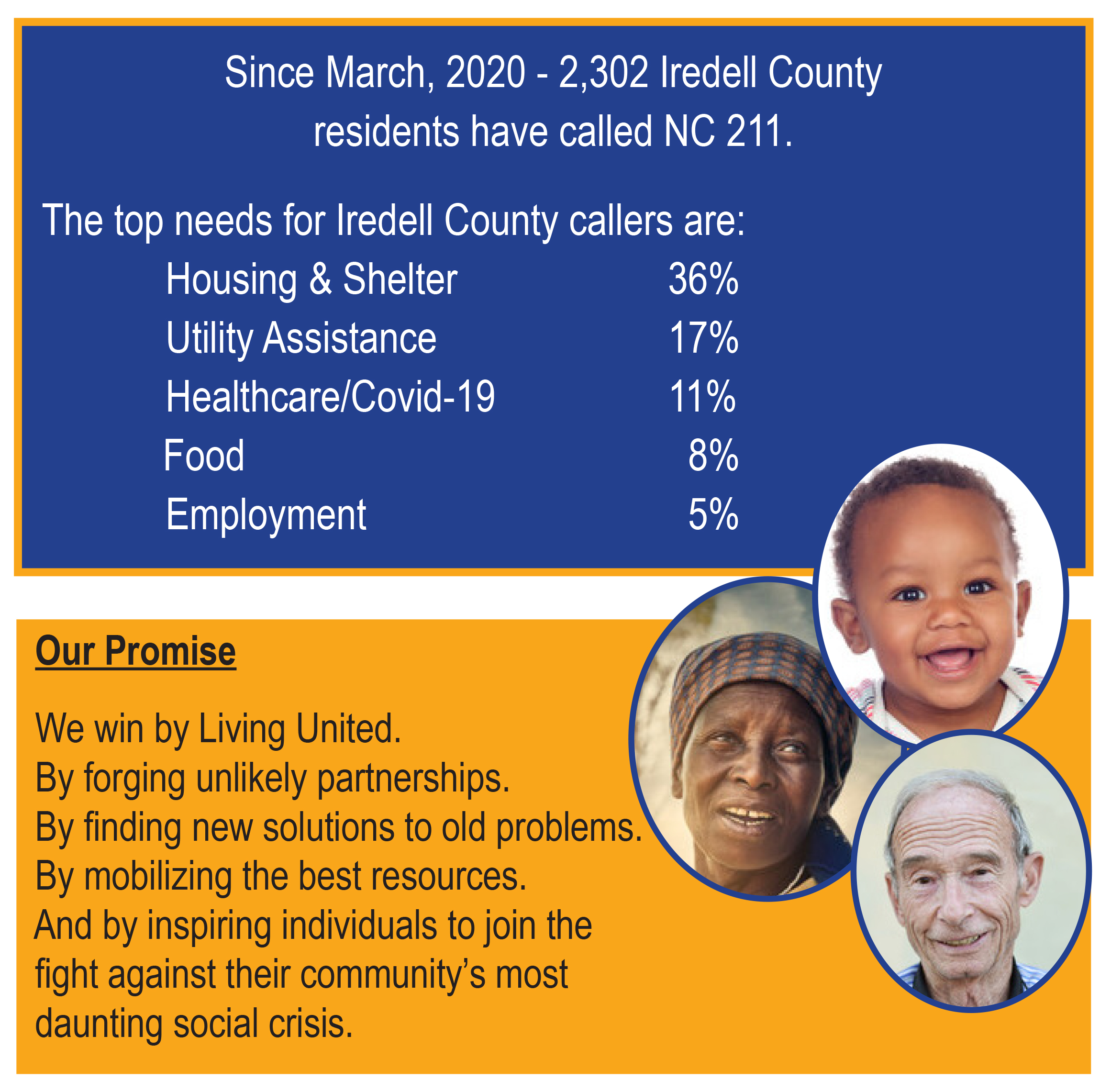 2021 Results
The purpose of Love United Iredell is to raise funding to support small impactful projects within Iredell County, during a 14 -day time frame, while educating many individuals about local agencies and building lasting community relations.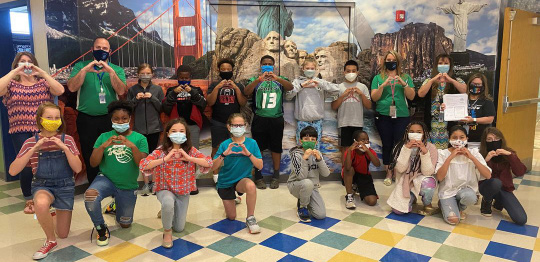 Cloverleaf Elementary partnered with RainbowKidz to participate in Acts of Kindness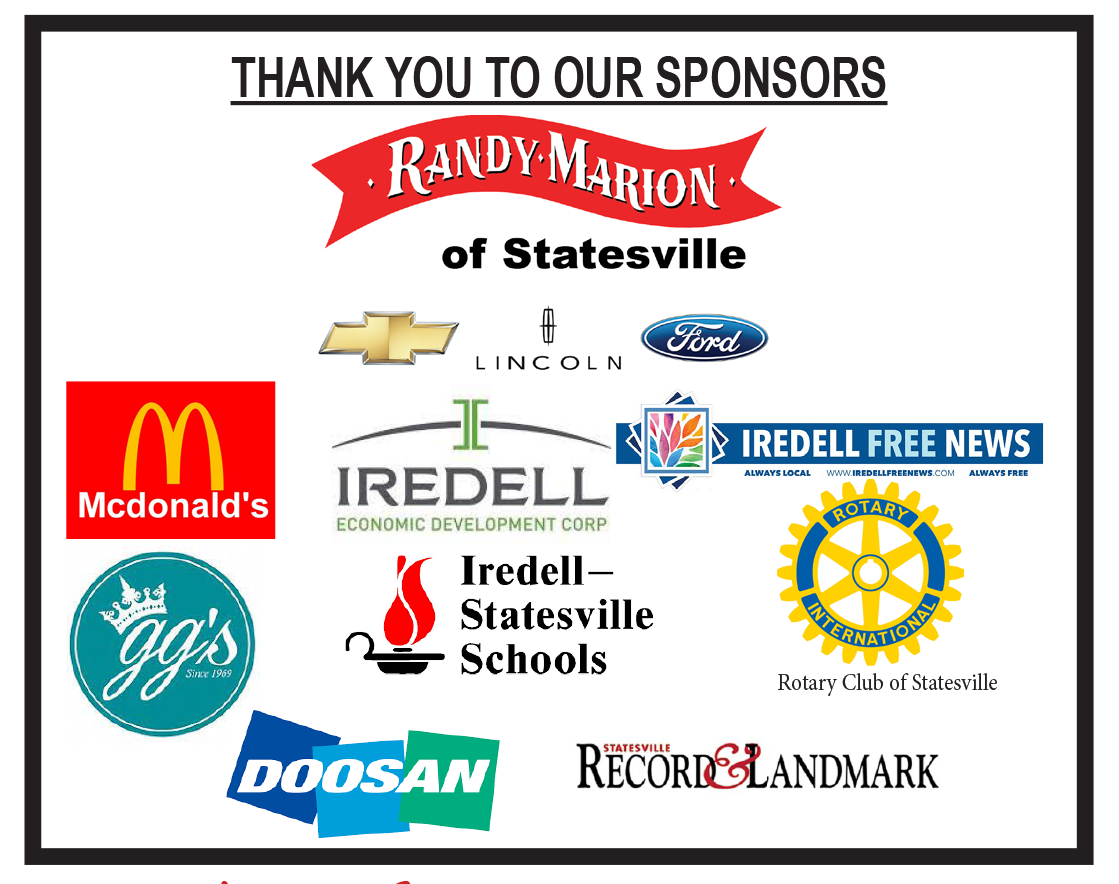 Leadership at the Highest Level
United Way of Iredell County's TocquevilleSociety is made up of our community's leading philanthropists who are working together to make a meaningful impact in our community and effect positive change for people in need. Tocqueville members set the standard for giving and humanitarian service in our community by donating $10,000 or more annually.
Denso Foundation
 EnergyUnited
Mr. Donald Flow
Mr. Robert Gordon
JC Steele &Sons
Kewaunee Scientific Corp.
Philip L. Van Every Foundation
Wilson Foundation
Thank You!
GIFTS TO OUR
2020-2021 Annual Campaign
DIAMOND BENEFACTORS
PUBLIX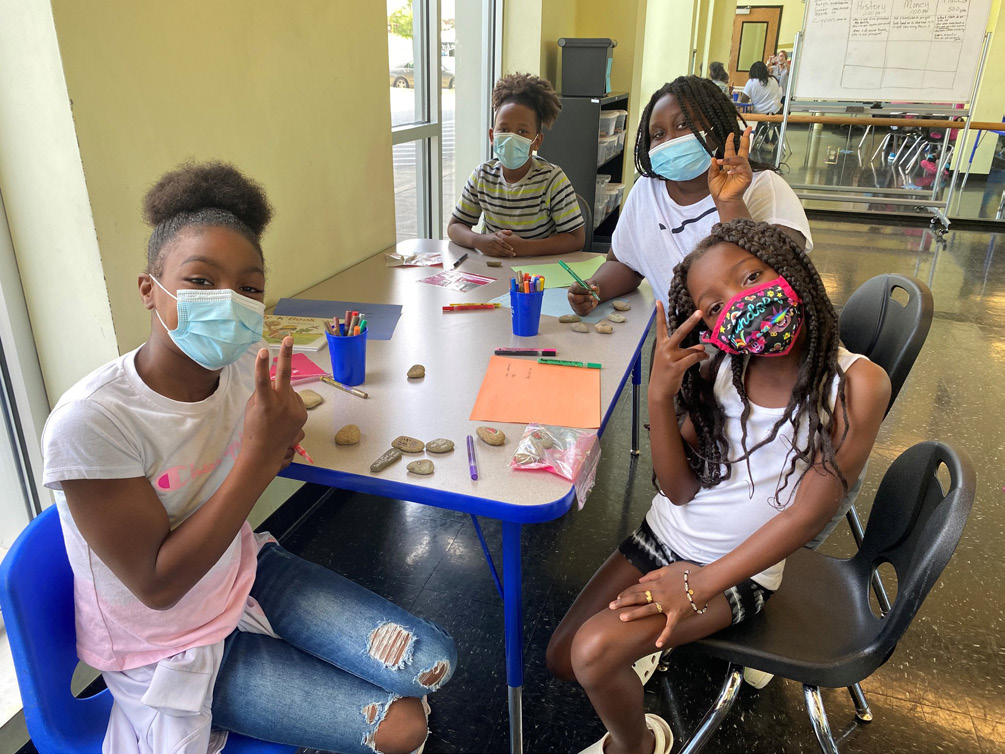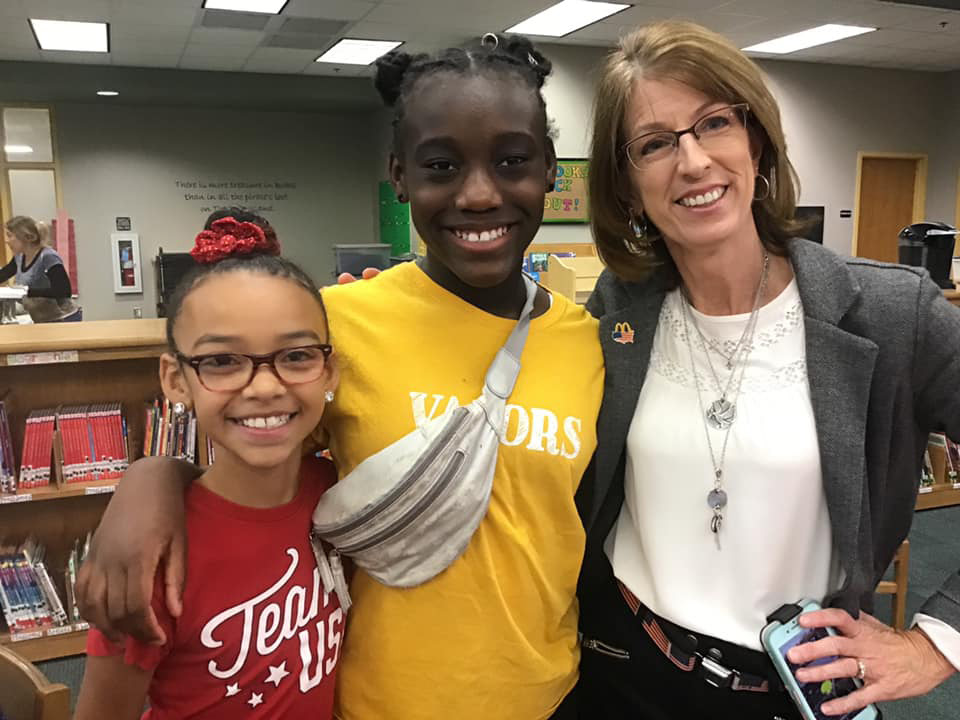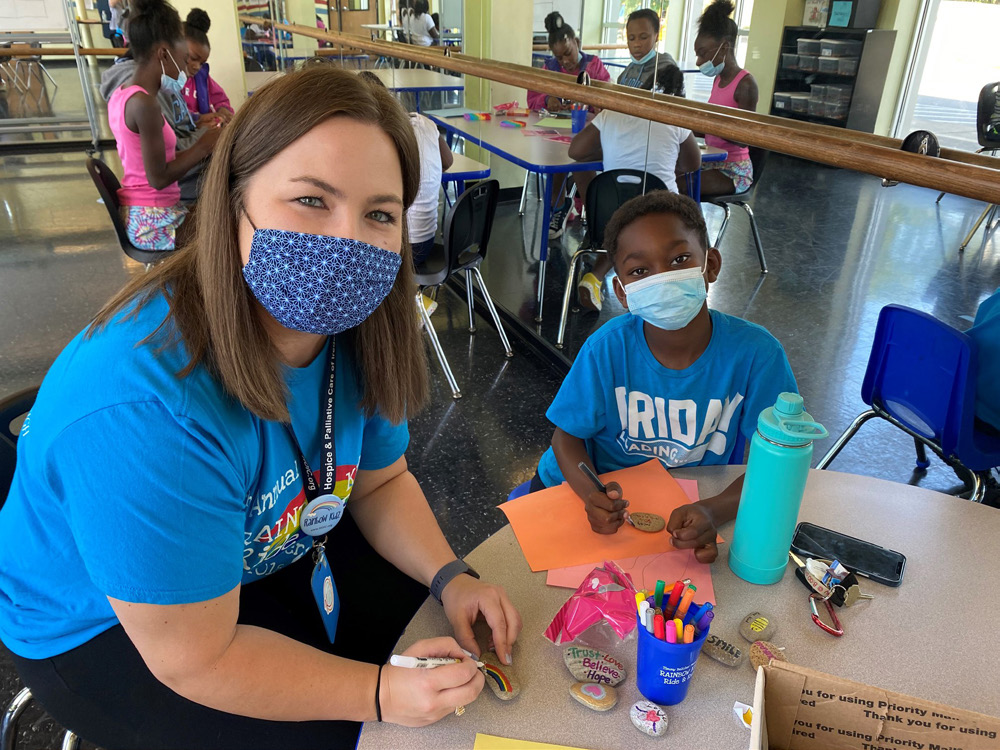 PLATINUM BENEFACTORS
Case Farms Chicken
Doosan
Mrs. Rona Gordon
Edie & Walter Holland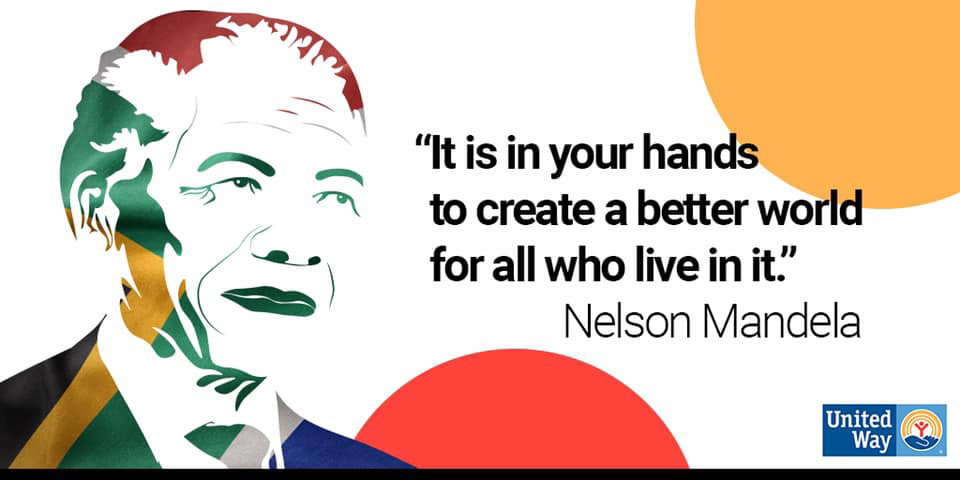 GOLD BENEFACTORS
Mr. Henry R. Batten
Bruning & Federle Mfg. Co.
Mr. Peter Clark &
Mrs. Marian S. Clark
Concrete Supply
Mr. Brett H. Eckerman & Mrs. Ellie F. Grubbs
Susan & Will Fanjoy
First National Bank
Mr. & Mrs. Walt Glazer
Barry & Anna Gordon
Mrs. Toby Gordon
Green Corner Auto Park
Drs. James Bradford & Ruby A. Grimm
Mrs. James (Geit) Johnson
Dr. & Mrs. Robert R. Kimball
Costi & Teresa Kutteh
Mrs. Sherrie G. Lee
Mr. Chester P. Middlesworth
Ms. Robin L. Mihalevich
Randy Marion Chevrolet
Ms. Stacey Schlesinger
Rhyne & Ginnifer Scott
Robert & Carla Steele
Mr. & Mrs. David S. Steele
Truist / McGriff Insurance
Mr. & Mrs. Kenneth W. Vance
SILVER BENEFACTORS
Mr. Charles T. Andrews
Bank of America
Dr. & Mrs. Ralph L. Bentley
Mr. Taryn Bordanaro
Ms. Shellie D. Brown
Bob Collier
Mr. Ryan Conrad
Maria Cox
Ms. Holly M. Donahue
Dr. Laurel Eason
Pat S. Ebert
Dr. & Mrs. James Foushee
Mr. Christopher Fries
Susan & Michael Gagnier
Ms. Sandra M. Gooding
Mr. & Mrs. John G. Green
Doug & Carole Hendrix
Mr. Michael Holcomb
Bill & Julia Holland
Jacquie & T.C. Homesley, Jr.
Ms. Jennifer D. Hunsucker
Mr. J. Edwin Hunter
Thomas & Margaret Kincaid
Jim & Lynn Lawton
Katie & Brian Long
Mr. & Mrs. William A. Long
Mr. Lance Mathern
Dr. & Mrs. Duncan A. McCall
Mr. & Mrs. John McMurray
Mr. & Mrs. Roy S. Morrison
Dr. & Mrs. John C. Nicholson
Mr. & Mrs. William B. Pitt
Ms. Rebecca W. Quate
Doug & Patti Ralston
Mr. & Mrs. Sonny Rankin Jr
Mrs. Susan G. Robertson
Mr. David E. Schleicher
Carolyn & Grant Sharp
Ms. Karen E. Sherrill
Ms. Cherie Smith
Mr. & Mrs. Jeffrey W. Smith
Mr. & Mrs. Ron Smith
Ms. Lynn Smyth
Mr. Josh Snow
Mr. & Mrs. Jeff Taylor
United Parcel Service
Mr. David Valliere
Mr. & Mrs. James B. Webb
Mr. & Mrs. Joseph Wegmiller
Mr. Gilbert K. Williams
Iredell County Economic Development Corporation
Statesville Brick Co.

BRONZE BENEFACTORS
Mr. Nicholas Anderson
Mr. Charles E. Ashe
Ms. Sherry Ashley
Mrs. Saralyn Bates
Rosanna Beal
Mr. Donald S. Belcher
Ms. Deanna Belk
Dr. Daniel Bellingham
Mr. Christopher D. Bowen
Dr. T. Porter Brannon
Mrs. Elizabeth A. Burns
Ms. Cheryl K. Burt
David & Diane Cash
Mr. & Mrs. Robert B. Cashion
Ms. Cathy Chambers
Ms. Donna K. Collins
Ms. Kelly Cooper
Ms. Dawn I. Cozart
Mr. Tip Nicholson & Mrs. Nancy Davis
Ms. Celeste Dominguez
First Baptist Church (Davie Ave)
Ms. Bari L. Ford
Mr. & Mrs. Michael B. Foster
Mr. & Mrs. Michael Fuhrman
Ms. Ellyn J. Gaither
Ken Galloway
Gwenn Gargano
Ms. Pamela D. Gill
Mr. Thomas Golden
Mr. Scott J. Graham
Nelson & Valerie Granade
Nikki Gregory
Ms. Michelle Hepler
Mrs. Jane Hinson
Ms. Margaret Hirth
Ms. Kim Holland
Ms. Debby Hudson
Dr. Marsha N. Hunter
Mr. Terry J. Jarrell
Robert & Laura Johnson
Ms. Angela Laber
Ms. Melissa S. Lippard
Ms. Avis J. Little
Mr. Michael Lyon
Mr. Kurt Massey
Dolly & Mark Mayerchak
Mr. David McBride
Mr. Steve McCachern
Mrs. Mary Ann McHenry
Dr. & Mrs. George K. Miller
Ms. Mildred M. Minor
Mr. Will Monroe
Mr. David Moore
Ms. Pamela C. Moore
Mr. Phillip Myers
Mr. Alec Natt
Mr. & Mrs. Mike Neader
Mr. Robert D. Noble Jr.
Mr. & Mrs. William Nowell
Mr. Joshua D. Perkins
Mr. & Mrs. Jeremy Phillips
Mr. & Mrs. Robert Phillips
Mr. Lawrence J. Pizzorni
Mr. Irvin J. Poplin
Mr. & Mrs. Michael Popowycz
Mr. Scott Rankin
Dorothy M. Reep, CPA PA
Ms. Dianna F. Roark
Ms. Rhonda Ruppe
Mr. Michael & Dr. Julie Schopps
Don & Janice Searcy
Ms. Cynthia Y. Smith
Mr. & Mrs. James T. Staples
Dr. Elmer H. Stout
David & Melanie Taylor
Barry & Pattie Templeton
Ms. Ashley Vanauken
Mr. Josua Virtue
Kathy & Michael White
Dr. Peggy Willhide
Mr. Joseph Young
Ms. Carol S. Zachary
Mr. Joshua Virtue

MAKING AN IMPACT
The United Way Endowment for the Future creates tangible and sustainable resources that are dedicated, forever, to our mission. It will guarantee our ability to respond to our changing needs and achieve a lasting community impact for generations to come. The best part of our endowment is that it supports new and innovative programs across our community. It does not fund the annual campaign or the administration of United Way of Iredell County.
LEGACY CIRCLE
Our challenge now is to continue the growth and development of the Endowment to ensure it can meet the needs of this community for generations to come. A Legacy Circle for the Endowment has been created which will bring opportunities to recognize individuals or families who leave a gift that will benefit our community for future generations.
We invite you to make a gift through cash, stock or a planned gift that meets your needs. With a gift to the Legacy Circle your wishes will live on and ensuring your lifelong efforts for accumulation will continue to bear fruit by changing the lives of others in our community.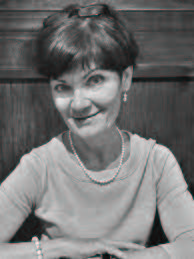 "Give a gift that improves lives for generations to come;
leave a legacy gift for your community."
GRANTS MADE FROM THE ENDOWMENT FOR THE FUTURE HAVE:
Helped launch the Veterans Transitional Home
Brought the Foundation Center Directory to Iredell Public Library
Provided funds to ensure Pharos' staff are trained in the Positive Parenting curriculum
Partnered with Emergency Medical Services to start a Community Paramedicine Program
Provided Grants to 4 Iredell-Statesville Schools
Provided seed grants to start the Covid-19 Response and Education Funds Endowed a
Scholarship at Mitchell Community College in honor of Dr. Douglas Eason
MILLION DOLLAR CHALLENGE DONORS
CROSSROADS
FRANK & LINDA JOHNSON
FOUNDATION
JOHN, MELINDA, & ADDISON CHILDRESS
MARIAN STEELE CLARK & JC STEELE & SONS, INC.
THOMAS A. FANJOY in loving memory of Frances A. Fanjoy
BARRY & ANNA GORDON
MORROW GORDON & L. GORDON IRON & METAL CO.
RICHARD & SUZANNE GORDON
HANNA & ANN KUTTEH by their children Costi, Bill, Bobby, & Elaine
PARTNERS
LAYTON & JANE GETSINGER & LAKE NORMAN
REALTY in .memory of Armonde Tr.outman
WILLIAM P. POPE & REBECCA B. POPE
BENEFACTORS
ANONYMOUS on behalf of children & families of Iredell County
ANONYMOUS in honor of the Gordon Family
FRANK & CAROL CHILDRESS
BRETT ECKERMAN & ELLIE GRUBBS in honor of United Way Staff past and present
SUSAN & WILL FANJOY in loving memory of Frances A. Fanjoy
GORDON FAMILY FOUNDATION
MARK & TERRY GORDON in memory of the Gordon Brothers Ellis, Melvin, Saul , Alfred, & Kalman
DOUG & CAROLE HENDRIX
MRS. JAMES (GEIT) JOHNSON
ESTATE of MARY MILLER
NANDINA PROPERTIES
DOUG & PATTI RALSTON
RHYNE & GIN SCOTT in honor of their children Ben, Abby, & Luke
SPEEDBALL ART PRODUCTS
ANN THARPE
SUSTAINERS, CONNECTORS, SUPPORTERS
ANONYMOUS
DR. RALPH & CAROLINE BENTLEY
HANK & SUSIE BYRD in memory of Harry R. Byrd & Ralph E. Newman
MARY DAWNE CLARK in memory of John C. Clark and Marybelle Clark Bell
ROBB COLLIER AND JULIA WILSON
THE COLLIER FAMILY
DAVIS REGIONAL MEDICAL CENTER
SHERRILL & BARRIE DEATON
JIMMY & FRANKIE EPPERSON
JOHN A. FRALEY & ADELAIDE B. HORTON
WALT & GINNY GLAZER
GILBERT ENGINEERING COMPANY
THE GOODYEAR TIRE & RUBBER COMPANY
JOHN & PATTI GREEN
EDIE & WALTER HOLLAND
IREDELL HEALTH SYSTEM
WILLIAM & INOLA JONES, JR.
ANN KELLY in memory of Melvin Kelly
KEWAUNEE SCIENTIFIC CORPORATION
ALVERA LESANE in memory of Junious Lesane
DR. CARLA & ERIC PENCE
PIEDMONT HEALTHCARE
ROBERT & CARLA STEELE
SUSAN ARBOGAST TOLLE in memory of all employees of Iredell Health System
KEN & JANE VANCE in honor of their children
Wells, Anne Tyson & Kathryn
WILLIAM E. WEBB, III & JOYCE WEBB
JOE & SUZANNE WEGMILLER
DR. PEGGY WILLHIDE
DOROTHY WOODARD in memory of Woody Woodard
MIKE & BETSY YARBOROUGH
And MANY FRIENDS WHO
CONTRIBUTED TO THE CHALLENGE

United Way of Iredell County
Statements of Financial Position as of June 30, 2021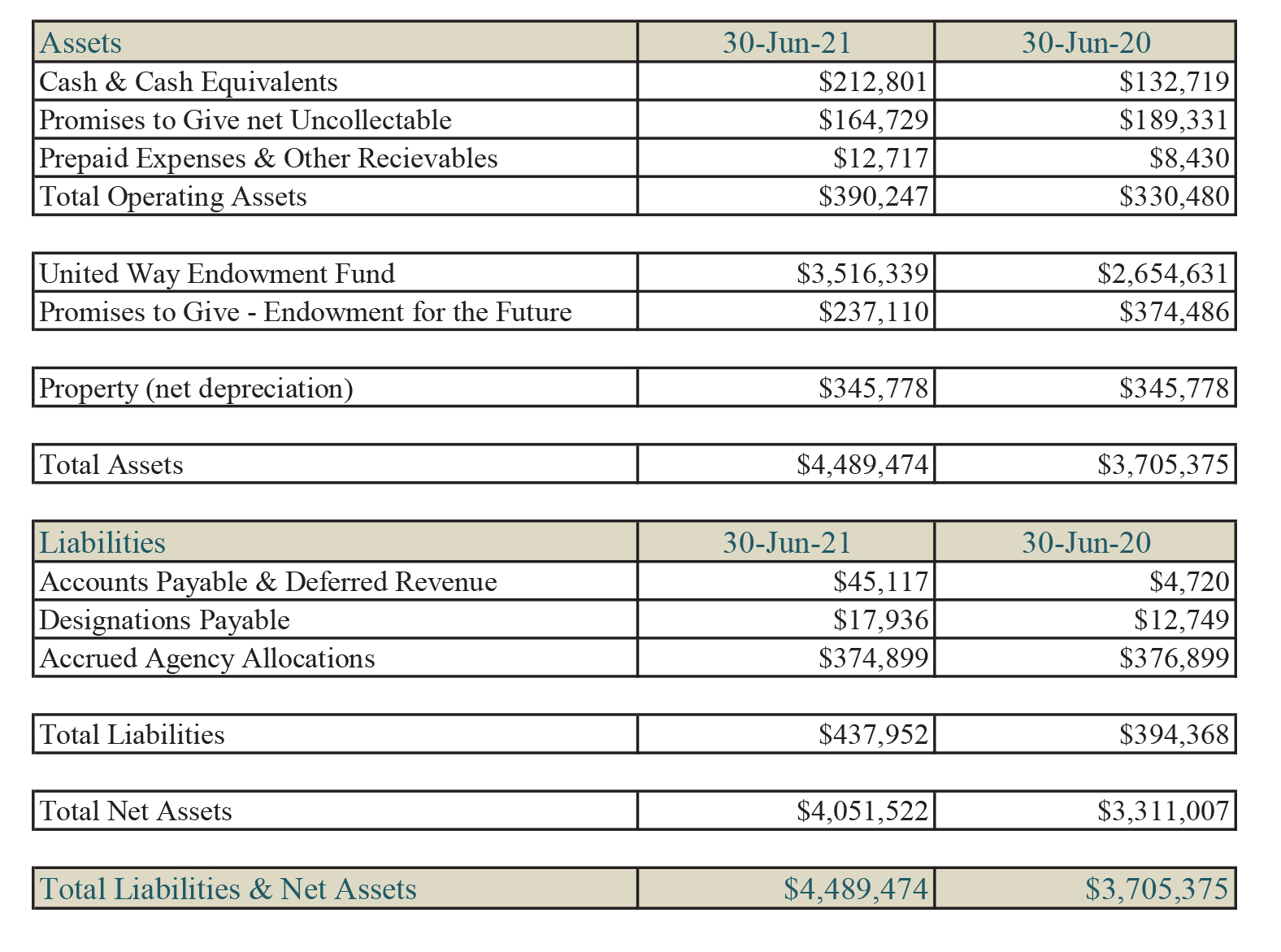 United Way of Iredell County
Statements of Functional Expenses for 2020-21